Box Canopy with Perforated Supply Plenum

---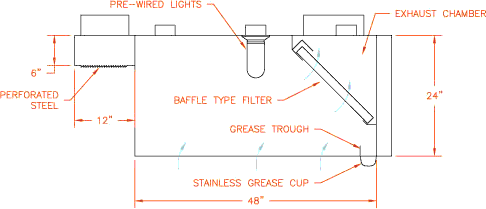 ---
Features
All hoods are constructed of 16 and 18 gauge steel.
All joints are welded liquid tight, without seams by an automatic wire fed mig welder.
All hoods are built in accordance to NFPA 96, NSF specifications, & U.L. 710 specifications.
Grease trough is made to receive grease extracted by filters.
Grease filters are of baffle type (20'' wide) and carry a U.L. listing. They are made from a light weight aluminum steel.
A stainless steel cup attaches to the tray that runs beneath the entire length of the hood.